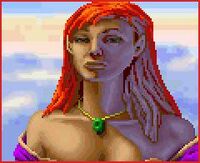 Zara Shashina
, the
Wizard of the Eastern Woods, Emissary of the Faerie Folk
is the half-
Faerie Folk
Wizard
who runs the
Spielburg Magic Shop
with her
familiar
Damiano
. After graduating from the
Wizard's Institute of Technocery
, she traveled to
Spielburg Valley
. Presumably, her aim was to study the spell
Erana
had cast in the region. Settled comfortably into the town of
Spielburg
, she opened up her magic shop. There she spells potions such as
healing potions
,
Power Potions
,
Vigor Potions
, and spells including
Open
,
Fetch
, and
Flame Dart
.

Despite sharing the valley with Erasmus, Zara lacks the sense of humor required to tolerate the eccentric wizard. As such, the two avoid each other.
Non-Canon
Edit
Sensing that Jago Daforgo did not possess any magical ability, she refused to sell him anything except a dispel potion.
Real World
Edit
Zara Shashina is a character from Quest for Glory I: So You Want to be a Hero?. She appears briefly in Quest for Glory II: Trial by Fire.
External Links
Edit
Ad blocker interference detected!
Wikia is a free-to-use site that makes money from advertising. We have a modified experience for viewers using ad blockers

Wikia is not accessible if you've made further modifications. Remove the custom ad blocker rule(s) and the page will load as expected.