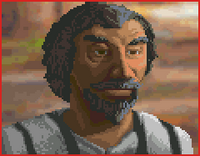 The
Weapons Master
is an egotistcal swordfighting expert. He refused to teach
Elsa von Spielburg
about swordplay on the principle that she was a girl. When
the Hero
arrived in
Castle Spielburg
, he dueled the Weapons Master and won. Infuriated, the arrogant swordmaster declared that he was taking an indefinite vacation.
Laspo Yorick's affectionate nicknames
Edit
Blade Braggart
Rapier Ruler
Swordy Lordy
Sword Bore
Weapon Windbag
Real World
Edit
The Weapons Master is a character who appears in Quest for Glory I: So You Want to be a Hero?
External Links
Edit
Ad blocker interference detected!
Wikia is a free-to-use site that makes money from advertising. We have a modified experience for viewers using ad blockers

Wikia is not accessible if you've made further modifications. Remove the custom ad blocker rule(s) and the page will load as expected.