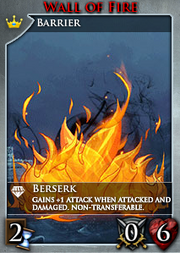 Walls of Fire
Flavor Text
Edit
"You have lit the fuse, Darius. But I do not think you know what is at the other end of it." (Fabled)
"Careful where you set that flame, boy. We don't want to destroy the town while we save it." --Warmaster Garves
Real World
Edit
Available in Fabled and Rare editions, the Wall of Fire card in Warstom was a Human Unit card set to be released with a future achievement.
Ad blocker interference detected!
Wikia is a free-to-use site that makes money from advertising. We have a modified experience for viewers using ad blockers

Wikia is not accessible if you've made further modifications. Remove the custom ad blocker rule(s) and the page will load as expected.