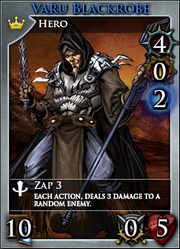 Varu Blackrobe
is a power-hungry wizard, who studied alongside
Archmage Valenti
.
Flavor Text
Edit
"Sometimes I think back fondly on the time I spent with my old master. He was kind and it was a simpler time." (Fabled)
Varu's tower is a haven for those who wish to practice magic with a minimum of legal or moral interference. (Rare)
Real World
Edit
Varu Blackrobe is a Human Hero available in Rare and Fabled editions.
Ad blocker interference detected!
Wikia is a free-to-use site that makes money from advertising. We have a modified experience for viewers using ad blockers

Wikia is not accessible if you've made further modifications. Remove the custom ad blocker rule(s) and the page will load as expected.