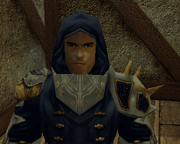 Thurin
is a captain in the
Neverwinter Militia
. He tends to command his men from inside the
Board Laid Bare
, a fact that did not change even during the
Wailing Death
.
When the Hero of Neverwinter entered the Blacklake District, he sought out Thurin. The captain explained that Samuel had gone missing and sent the Hero to find him. After Samuel had been located and released from Meldanen's captivity, Thurin rewarded the Hero.
Official Description
Edit
"A disciplined militia captain. He looks well rested, the Blacklake barricades having kept the plague to a minimum and his responsibilities largely unchanged." ("Examine" Description)
Real World
Edit
Thurin is a character in Neverwinter Nights.
Ad blocker interference detected!
Wikia is a free-to-use site that makes money from advertising. We have a modified experience for viewers using ad blockers

Wikia is not accessible if you've made further modifications. Remove the custom ad blocker rule(s) and the page will load as expected.