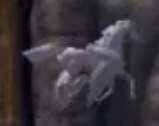 The
Pegasus
is a unique and legendary creature in the world of
Glorianna
. It makes its lonely nest atop the plateaus of
Pegasus Peaks
on the isle of
Marete
. According to legend, it struck its hoof on the ground and the
Hippocrene River
sprung up on the spot. The Pegasus' feathers are also known to be a vital component in some recipes for
Vitality Potions
and
Stamina Pills
.
Real World
Edit
The Pegasus is more of a detail than a character, and appears in Quest for Glory V: Dragonfire. It is based, very closely, on the Greek legends of the Pegasus.
External Links
Edit
Ad blocker interference detected!
Wikia is a free-to-use site that makes money from advertising. We have a modified experience for viewers using ad blockers

Wikia is not accessible if you've made further modifications. Remove the custom ad blocker rule(s) and the page will load as expected.