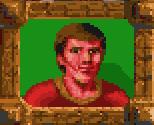 Tam Baker
is one of the
Baker Brothers
who run the
Baker Brothers Bake House
. While
William Baker
and
Jym Baker
spend much of their time in the shop, Tam is often transporting good and supplies on his wagon. Unfortunately, the wagon is quite unreliable and often breaks down.
Graham offered to help Tam with the wagon when he encountered the young man in the Town of Serenia, but Tam politely refused. Later, Graham discovered that Tam had lost a silver coin on the street.
Real World
Edit
Tam Baker is a character in King's Quest V: Absence Makes the Heart Go Yonder.
External Links
Edit
Ad blocker interference detected!
Wikia is a free-to-use site that makes money from advertising. We have a modified experience for viewers using ad blockers

Wikia is not accessible if you've made further modifications. Remove the custom ad blocker rule(s) and the page will load as expected.