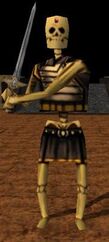 A truly evil commander of skeleton warriors in the Dimension of Death, the Spirit Commander believed he was in charge of a new world order, and would stop at nothing to see this come to pass. The skeletal leader and his followers rebelled against Lord Azriel.
Eventually, he and his followers faced off against Connor to stop him from crossing the Bridge of Life. Once Connor dispatched the minions, the Spirit Commander attacked as well. Connor slew him, and took his double-edged sword.
Real World
Edit
The Spirit Commander is a boss monster in King's Quest: Mask of Eternity.
External Links
Edit
Ad blocker interference detected!
Wikia is a free-to-use site that makes money from advertising. We have a modified experience for viewers using ad blockers

Wikia is not accessible if you've made further modifications. Remove the custom ad blocker rule(s) and the page will load as expected.