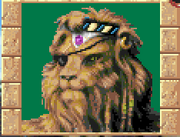 Sharaka Sim Rahsh
is a tough
Liontaur
guard
who is usually stationed at the
Gates of Tarna
during the day with
Assarka Sim Narsh
.

Sharaka is an old veteran, having survived the Demonic attack on Tarna. Having born witness to all that Rasha Rakeesh SahTarna did to defend the kingdom of Tarna, Sharaka holds the Paladin in the highest esteem.
Real World
Edit
Sharaka Sim Rahsh is a character in Quest for Glory III: Wages of War.
External Links
Edit
Ad blocker interference detected!
Wikia is a free-to-use site that makes money from advertising. We have a modified experience for viewers using ad blockers

Wikia is not accessible if you've made further modifications. Remove the custom ad blocker rule(s) and the page will load as expected.