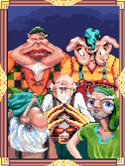 The
Sense Gnomes
are a family of
Gnomes
living on the
Isle of Wonder
. The brothers serve as guards to the island, each one using their specialized sense to detect unwanted visitors. They all speak in rhyme.
Shamir Shamazle
warned each of them of
Alexander
, but when the prince of
Daventry
arrived on their island he was able to fool each of them.
Memorable Quotes
Edit
"Five fierce guards of the Isle we be! 'Watch for a foreign man,' said he. With ears and nose, tongue, hands and eyes, its nature cannot be disguised. If man it be, then man, it dies!"
"Old Tom Trow, smell your smell. Do that which you do so well."
"Listen, hark you, Grovenor. Do your duty, as you swore. With your ears, please tell us more."
"Taste, Grump-Frump, that we might know, whether friend or whether foe."
"Trilly Dilly, use your hands. Is it beast or is it man?"
"Old Bill Batter, never fatter, vision can resolve this matter! Look you now, and end this chatter."
"A man! A man! So say our nose! Into the waiting sea he goes!"
"A man! A man! So say our ears! We shall send him to his bier!"
"A man! A man! So say our tongue! To the Realm of the Dead we send this one!"
"A man! A man! So say our hands! We act at the Vizier's command!"
"A man! A man! So say our eyes! A man he be, a man he dies!"
Non-Canon
Edit
Non-Canon Images
Edit
Real World
Edit
The Sense Gnomes appear in King's Quest VI: Heir Today Gone Tomorrow.
External Links
Edit
Ad blocker interference detected!
Wikia is a free-to-use site that makes money from advertising. We have a modified experience for viewers using ad blockers

Wikia is not accessible if you've made further modifications. Remove the custom ad blocker rule(s) and the page will load as expected.