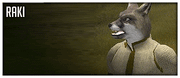 Official Description
Edit
With their lightning reflexes and scholastic minds, these fox-people have come to make a place for themselves on the world of Telon. When their own world was torn assunder by the ravenous ulvari, they fled to Kojan by way of the portal of Nik'tarin. The reclusive wood elves took in the fox-people into their home of Ca'ial Brael and allowed them to begin rebuilding a life for themselves. The raki have given as much as they have taken, however, as a bond they established with the wood elves shields the elven forest from ulvari incursions.
While the raki have a hard time being taken seriously because of their diminutive size and animalistic appearance, they time and time again proven that they are swift and resourceful.
Raki can be Paladins, Rogues, Rangers, Disciples, Sorcerers, and Psionicists.
"Raki's extra planar origin allows them to shift across multiple planes of existence.
A peace loving race, the Raki follow the paths of Jin & live in harmony with their neighbors. When when evil expels them from their home land, the Wood Elves take them in, and together they take up arms to defend against the encroaching evil." ([1])
Real World
Edit
Raki are a playable race in Vanguard: Saga of Heroes.
External Links
Edit
Ad blocker interference detected!
Wikia is a free-to-use site that makes money from advertising. We have a modified experience for viewers using ad blockers

Wikia is not accessible if you've made further modifications. Remove the custom ad blocker rule(s) and the page will load as expected.