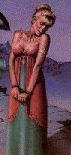 Priscilla
was once the princess of the
Sovereignty of Serenia
, the daughter of
King George IV
. She married
Kenneth the Huge
and became the queen of that land.
Priscilla was captured by Harlin the Malevolent, and imprisoned in the form of a frog. She was rescued by the Wanderer, who broke the curse by kissing her. Then, he used Magic Shoes to return her to her home. He turned down the offer of marriage that King George IV had included as part of the reward.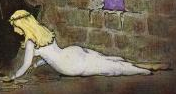 Harlin the Malevolent was far from defeated, however. After centuries of rebuilding his power, he reversed the sands of time and returned to a period before his defeat, to the point in time when Priscilla was in captivity. He brought an adventurer from another time to replace the Wanderer, hoping to avoid his defeat, but had chosen the same individual who had originally defeated him. Priscilla managed to manipulate some of the magic herself and provided the happy Wanderer with some advice. Ultimately, Harlin was defeated (but in time would regenerate to the day he discovered the Wanderer).
Following Harlin's defeat she wed to Kenneth the Huge. Together they legislated peace across their kingdom -- though the penalty for breaking their laws is very severe.
Canon Images
Edit
Non-Canon
Edit
Cray's KQ Companion
Edit
There is only one Wanderer, as Priscilla is only captured one time by Harlin the Malevolent. This Wanderer is also Kenneth the Huge, and ultimately ends up marrying the Princess.
Real World
Edit
Princess Priscilla is a character in The Wizard and the Princess and Adventure in Serenia (which is, in fact, the same game re-issued).
External Links
Edit
Ad blocker interference detected!
Wikia is a free-to-use site that makes money from advertising. We have a modified experience for viewers using ad blockers

Wikia is not accessible if you've made further modifications. Remove the custom ad blocker rule(s) and the page will load as expected.