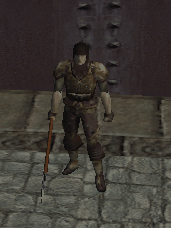 Orrean
is a member of the
Blacklake Patrol
hired by
Meldanen
to guard his
estate
. He was fairly loyal to his employer, more so than most of the estate guards in the
Blacklake District
. He did not allow anyone to enter through the estate gates, although he was not impossible to bribe or intimidate. The
Hero of Neverwinter
would have been able to enter Meldanen's Estate through the front gate through either manner, or through beating Orrean in combat.
Official Descriptions
Edit
"A privately hired guard, this elf regards you coldly. He appears quite capable of defending himself, if need be." ("Examine" Description)
Real World
Edit
Orrean is a character in Neverwinter Nights. If the player enters into combat with Orrean, he can be killed but there are also other methods of getting around his guard.
Ad blocker interference detected!
Wikia is a free-to-use site that makes money from advertising. We have a modified experience for viewers using ad blockers

Wikia is not accessible if you've made further modifications. Remove the custom ad blocker rule(s) and the page will load as expected.