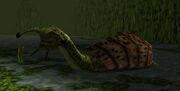 King Mudge was the ruler of the Swamp, despite being an enormous snail. When the Mask of Eternity shattered, King Mudge was nowhere to be found until Connor defeated the Swamp Witch. After her death and the purification of the Swamp's waters, the snail king emerged, greeting Connor as the Champion Eternal. After expressing his gratitude to Connor for his actions to save the Swamp, King Mudge swam in a circle until he had created a whirlpool that led Connor down to the Underground Realm of the Gnomes.
Real World
Edit
King Mudge is a character in King's Quest: Mask of Eternity.
Sierra On-Line used to be located in the William's own property they lived at on Mudge Ranch Road. Games such as the original Wizard and the Princess were published from the house.
External Links
Edit
Ad blocker interference detected!
Wikia is a free-to-use site that makes money from advertising. We have a modified experience for viewers using ad blockers

Wikia is not accessible if you've made further modifications. Remove the custom ad blocker rule(s) and the page will load as expected.