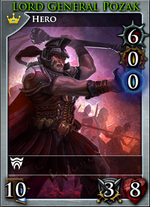 Though hailing from
Estiam
,
Lord General Pozak
rose swiftly through the ranks of the
Aanglor Expeditionary Force
and became their only Estian general. The wars against Orcs, Undead, and Demons that ravaged the lands of Estiam and the
Silvintri Forest
, as well as his developing love for
Light Priestess Enyi
, shook him to his core.
Flavor Text
Edit
Uncommon (Lord General Pozak)
The first and only Estian general in the Aanglor Expeditionary Force, Pozak is respected by both occupier and occupied.
Pozak marked the centennial of the Aanglor conquest by hunting down a squad of Abtu-Kahn scouts. Then he got roaring drunk and burned down his own tent.
Rare (Pozak at Bay)
The Empress sends regular messages demanding information on the progress of the war. Pozak leaves them unopened on his desk.
Legendary (Lord General Pozak)
"I fell in love with a shining star."
"He fights just as hard, but his eyes keep drifting to the mountains and to the east." --Alric
Fabled (Pozak at Bay)
"There was a time when I thought I couldn't do this, Enyi. But you made me believe, and I still believe now. Your bright future is still before us."
Rare (Touch of Life)
"She walks among them, and her light shines brighter than the war beacons, brighter than it ever has before, and all I can do is stand there and marvel."
Fabled (Ring of Flight)
"I'd like to have a legion armed with these things."
Fabled (Wounding Blade)
Uncommon (Lightning Sigil)
Pozak held up the sigil with a sinking feeling. Enyi hadn't told them everything.
Uncommon (Shield of Storms)
Pozak picked up the shield, and thunder rumbled in the distance.
Real World
Edit
Lord General Pozak is one of the central characters of the Warstorm plot, and is the first card players of the game receive. He is featured in two cards: Lord General Pozak and Pozak at Bay .
External Links
Edit
Ad blocker interference detected!
Wikia is a free-to-use site that makes money from advertising. We have a modified experience for viewers using ad blockers

Wikia is not accessible if you've made further modifications. Remove the custom ad blocker rule(s) and the page will load as expected.