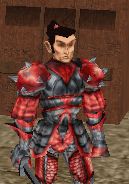 The
Halfling
Keener
, though a
Fighter
himself, was an avid spectator of the
Gauntlet
beneath the
Board Laid Bare
until the
Hero of Neverwinter
won the tournament.
Official Description
Edit
"This halfling male is enthralled by combat, showing obvious admiration for anyone brave enough to prove competent in the pit." ("Examine" Description)
Real Life
Edit
Keener is a character from Neverwinter Nights.
Ad blocker interference detected!
Wikia is a free-to-use site that makes money from advertising. We have a modified experience for viewers using ad blockers

Wikia is not accessible if you've made further modifications. Remove the custom ad blocker rule(s) and the page will load as expected.