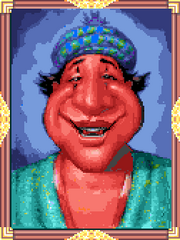 Jollo
is the court jester of the
Isle of the Crown
and probably
Cassima
's best friend in the
Castle of the Crown
. Knowing her since her childhood, Jollo always sought to bring a smile to her face. Jollo is also an avid reader.
When Cassima returned home but was confined to her bedroom, Jollo began to grow suspicious of Abdul Alhazred. He spent as much time as he could out of the castle, spending many hours at Ali's Books reading The Changing Role of Court Entertainers Through the Ages. He also sought Sing-Sing, but to no avail.
During one of his outings to the book store, he met Alexander of Daventry. Remembering Cassima speaking of him, Jollo began conspiratorily plotting against the vizier with the prince. After infiltrating the castle, Alexander provided Jollo with a lamp identical to that of Shamir Shamazle's, which the jester happily swapped. He handed Alexander the real lamp while the prince confronted the vizier.
Non-Canon
Edit
The Silver Lining
Edit
Jollo enjoys reading poetry to calm his nerves after the attack on the Land of the Green Isles.
Real World
Edit
Jollo is a character in King's Quest VI: Heir Today Gone Tomorrow. He also appears in The Silver Lining by Phoenix Online Studios.
External Links
Edit
Ad blocker interference detected!
Wikia is a free-to-use site that makes money from advertising. We have a modified experience for viewers using ad blockers

Wikia is not accessible if you've made further modifications. Remove the custom ad blocker rule(s) and the page will load as expected.