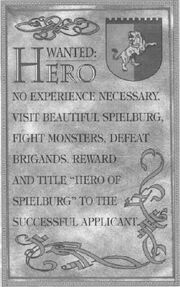 Desperate for a reprieve from the
Spielburg Brigands
, tormented by monsters, and seldom frequented by the adventurers who had once flocked to their valley the people of
Spielburg
put a flyer out to advertise their need for a Hero. The flyer read:
"Wanted: Hero
No experience necessary.
Visit Beautiful Spielburg,
Fight Brigands,
Reward and Title
"Hero of Spielburg"
To the successful applicant."
Copies of this flyer could be found in many areas near Spielburg Valley, until it caught the eye of an aspring Hero. (Devon Aidendale specifically spotted the flyer in the adventurers guild in Willowsby.) The "No experience necessary" part was especially attractive to the fledgling adventurer. And so, his adventures began.
Real World
Edit
This flyer is a part of the backstory of Quest for Glory I: So You Want to be a Hero? and is the player's given reason for being in the valley to begin with.
External Links
Edit
Ad blocker interference detected!
Wikia is a free-to-use site that makes money from advertising. We have a modified experience for viewers using ad blockers

Wikia is not accessible if you've made further modifications. Remove the custom ad blocker rule(s) and the page will load as expected.