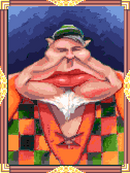 Grump-Frump
is easily the widest of the
Sense Gnomes
, for as the Sense Gnome of Taste his entire body is formed around an enormous mouth. Inside the gigantic mouth is the gnome's tool -- a massive tongue. Grump-Frump is betrayed only by his sweet tooth. He is the third in line, following
Tom Trow
and
Grovenor
.
Alexander
, rather than fooling Grump-Frump, chose to bribe the gnome with a tasty
Mint
. Grump-Frump enjoyed the delectable treat and decided that Alexander posed no danger.
Memorable Quotes
Edit
"Grump-Frump knows a tasty treat. It matters not what others bleat. No danger this one, so sweet."
"My tongue betrays this one so sly! A man it is. I tell no lie."
"My tongue dislikes this sour thing! And the taste of man all o'er it clings!"
Real World
Edit
Grump-Frump is a character in King's Quest VI: Heir Today Gone Tomorrow.
External Links
Edit
Ad blocker interference detected!
Wikia is a free-to-use site that makes money from advertising. We have a modified experience for viewers using ad blockers

Wikia is not accessible if you've made further modifications. Remove the custom ad blocker rule(s) and the page will load as expected.