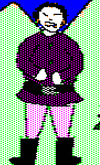 The
Giant
the dwells in
Great Mountains
region of
the North
. The wanderer found the angry looking giant guarding the path to
Harlin's Castle
.
The Wanderer
played a
harp
for him soothing his soul. As it turned out, the Giant is a lover of music. He was delighted and took the harp, thanking the adventurer for it.
Real World
Edit
The "giant" appeared in Adventure in Serenia and its rereleased The Wizard and the Princess.
This character is known simply as the 'giant', but described as an 'angry looking giant' or 'the giant' in Wizard and the Princess and Adventure in Serenia. Looking through the files of the IBM version this character is also listed as "GIANT".
External Links
Edit
Ad blocker interference detected!
Wikia is a free-to-use site that makes money from advertising. We have a modified experience for viewers using ad blockers

Wikia is not accessible if you've made further modifications. Remove the custom ad blocker rule(s) and the page will load as expected.