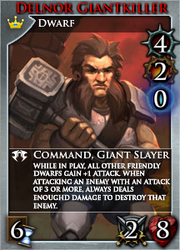 Delnor Giantkiller
is a renowned Dwarf, recognized for his heroic achievements in felling giants. Unlike other dwarves, he is very open-minded and ready to stand alongside human allies.
Flavor Text
Edit
"We can stand with the humans, or we can stand apart and die when they come for us. I'm not ready to die." (Fabled)
Though respected by his people for his exploits against the trolls and giants, Delnor raises eyebrows with his curious and open-minded attitude toward strangers. (Rare)
Real World
Edit
Delnor Giantkiller is a Dwarf Hero card for a Human squad in Warstorm.
Ad blocker interference detected!
Wikia is a free-to-use site that makes money from advertising. We have a modified experience for viewers using ad blockers

Wikia is not accessible if you've made further modifications. Remove the custom ad blocker rule(s) and the page will load as expected.