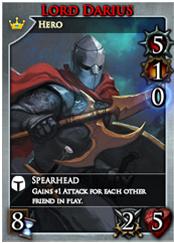 Lord Darius the Cur
was an ambitious member of the expeditionary force from
Anglor
. The war in
Estlam
presented him with opportunities for advancement -- allowing him to become a comfortable lord with his eyes set upon the crown.
Flavor Text
Edit
"Opportunity doesn't knock upon doors, you have to sneak up on it in the middle of the night." (Darius the Cur, Legendary)
For a man who calls himself a lord, Darius has a surprisingly low appreciation for flattery. (Lord Darius, Rare)
A long-standing veteran of the expeditionary force, feared but not respected. (Darius the Cur, Uncommon)
Real World
Edit
Darius is featured on two cards -- Lord Darius (Rare/Fabled) and Darius the Cur (Uncommon/Legendary).
Ad blocker interference detected!
Wikia is a free-to-use site that makes money from advertising. We have a modified experience for viewers using ad blockers

Wikia is not accessible if you've made further modifications. Remove the custom ad blocker rule(s) and the page will load as expected.