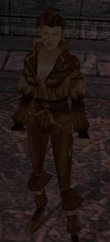 Chandra
was a
Half-Elf
sorcery
student at the
Neverwinter Academy
. She was attracted to the man who would become the
Hero of Neverwinter
, and asked him to accompany her to the feast that would follow the graduation ceremony. She was eager to meet
Aribeth de Tylmarande
, and hoped she would return for her own graduation. Despite her competence with magic, she was slain in the attack on the Academy.
Real World
Edit
Chandra was a character who appeared in the Prologue of Neverwinter Nights.
Ad blocker interference detected!
Wikia is a free-to-use site that makes money from advertising. We have a modified experience for viewers using ad blockers

Wikia is not accessible if you've made further modifications. Remove the custom ad blocker rule(s) and the page will load as expected.