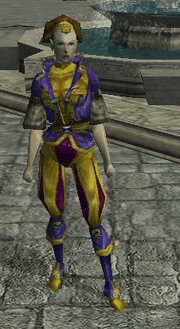 Bethany
is a
human
resident of the
Peninsula District
of
Neverwinter
. She managed to escape the district when the prisoners of the
Neverwinter Prison
escaped, despite the quarantine that resulted from the
Wailing Death
.
She came upon the future Hero of Neverwinter as he exited the Neverwinter Temple of Tyr, and begged him for help in the district.
Official Description
Edit
"This woman is obviously upset. From her haggard appearance, it is fair to surmise that the plague has turned her life upside down." (NWN "Examine" Description)
Real World
Edit
Bethany is a character in the original campaign of Neverwinter Nights.
Ad blocker interference detected!
Wikia is a free-to-use site that makes money from advertising. We have a modified experience for viewers using ad blockers

Wikia is not accessible if you've made further modifications. Remove the custom ad blocker rule(s) and the page will load as expected.