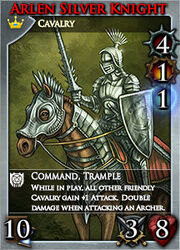 Arlen the Silver Knight
is the commander of the elite cavalry of the
Estia Empire
, and trusted closely by the
Empress of Estia
. This is largely due to her charisma -- coupled with her ruthlessness. It is because of these traits that she is ranked higher than
Knight-Captain Alric
.

She wields the Lance of Faith in battle.
Flavor Text
Edit
"I'm sure you've done your best, Alric, but it's time for experience and ruthlessness to have its day." (Fabled)
The Empress has the highest confidence in the Silver Knight's ability to bring the Estian situation under control. (Rare)
Real World
Edit
Arlen, Silver Knight is a Human Hero card available in Rare or Fabled in Warstorm.
External Links
Edit
Ad blocker interference detected!
Wikia is a free-to-use site that makes money from advertising. We have a modified experience for viewers using ad blockers

Wikia is not accessible if you've made further modifications. Remove the custom ad blocker rule(s) and the page will load as expected.