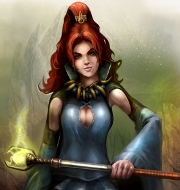 Ariah
is a powerful priestess of the old Gods of
Nirros
, and a firm believer in the
Skybrand Prophecy
. She is knowledgable in ancient magic that most have forgotten.
Official Description
Edit
"The spiritual leader of Heaven's Keep, Ariah's communion with the old Gods grants her incredible mastery over the powers of Sky. With Ariah as an ally, healings and blessings thought lost to time are commonplace."
Real World
Edit
Ariah is a general in the Facebook game Haven.
Ad blocker interference detected!
Wikia is a free-to-use site that makes money from advertising. We have a modified experience for viewers using ad blockers

Wikia is not accessible if you've made further modifications. Remove the custom ad blocker rule(s) and the page will load as expected.