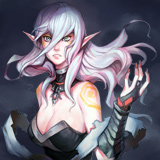 Aside from being a powerful mage, capable of
Mind Control
,
Aria
is a very capable swordsman. She is a well-equipped adventurer, with both the
Grimshaw Jewel
and the
Emerald Saber
in her possession.
Official Description
Edit
"Aria was one of Lotus Ravenmoore's last known apprentices. Although she initially dedicated herself to learning the darker powers of wizardry, she has now turned a new leaf and uses her magic to protect Valeria." (Taken from Castle Age)
Real World
Edit
Aria is a Hero available from the Oracle for low-level players with a cost of 30 favor points. She became available in December 2009. Depending on her level, she can increase a player's energy by 2 to 10. Her starting stats are 13 attack and 16 defense.
External Links
Edit
Ad blocker interference detected!
Wikia is a free-to-use site that makes money from advertising. We have a modified experience for viewers using ad blockers

Wikia is not accessible if you've made further modifications. Remove the custom ad blocker rule(s) and the page will load as expected.