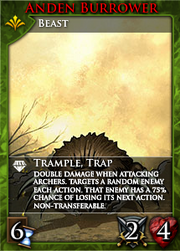 Anden Burrowers
are one of the many diverse species that live within the
Silvintri Forest
. Like many of the natural creatures of the forest, it serves as a faithful ally to the
Silvintri Elves
. Anden Burrowers are naturally ferocious and are able to surprise and trap their prey with ease.
Flavor Text
Edit
Orcs are learning not to camp near the ruins of the Silvintri Forest -- too many sinkholes to fall into. (Fabled)
"What's that rumbling nois--" (Rare)
Real World
Edit
Anden Burrower is an Elf unit card in the game Warstorm.
External Links
Edit
Ad blocker interference detected!
Wikia is a free-to-use site that makes money from advertising. We have a modified experience for viewers using ad blockers

Wikia is not accessible if you've made further modifications. Remove the custom ad blocker rule(s) and the page will load as expected.