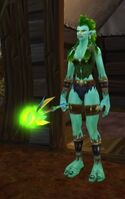 Provisioner
Ameenah
is a
jungle troll
merchant specializing in reagents for spells and potions. She follows
Budd Nedreck
as part of his band of treasure seekers and troll slayers.
Initially, she traveled with this group to Hatchet Hills in Ghostlands. After adventurers defeat Zul'jin in Zul'Aman, the adventurous group of treasure hunters continued on their way. They soon reached Northrend in the midst of the conflicts there and set up a camp at Granite Springs in the Grizzly Hills. Ameenah sold her wares at both camps.
Real World
Edit
Ameenah is a level 70 reagents vendor from World of Warcraft: Burning Crusade. She reappears in World of Warcraft: Wrath of the Lich King.
External Links
Edit
Ad blocker interference detected!
Wikia is a free-to-use site that makes money from advertising. We have a modified experience for viewers using ad blockers

Wikia is not accessible if you've made further modifications. Remove the custom ad blocker rule(s) and the page will load as expected.