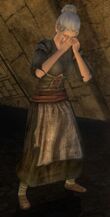 Addie Wheatley
is one of the poor residents of
Bree
, frequently seen in the
Beggar's Alley
. When adventurers encountered her, she was
concerned about her sons
who had gone missing.
Her adventurous son Malin Wheatley had entered the Barrow-downs in search of treasure. When he did not return, she sent her son Amlach Wheatley to find him. He, too, did not return. As such, the worried mother sent adventurers to the Dead Man's Perch to find him. At Amlach's camp, they found Amlach's Tattered Journal which they then brought back to Addie.
After reading the book, Addie asked the adventurers to head out once more in the hopes that Malin was still alive. The adventurers set out to save Malin from whatever evil had slain his brother.
Real World
Edit
Addie Wheatley is a quest-giver in Lord of the Rings Online.
External Links
Edit
Ad blocker interference detected!
Wikia is a free-to-use site that makes money from advertising. We have a modified experience for viewers using ad blockers

Wikia is not accessible if you've made further modifications. Remove the custom ad blocker rule(s) and the page will load as expected.